Built in a beautiful forest of beech trees and perennial robola trees, Petrostrouga Refuge is located in Mount Olympus, and is managed by the Greek Rescue Team.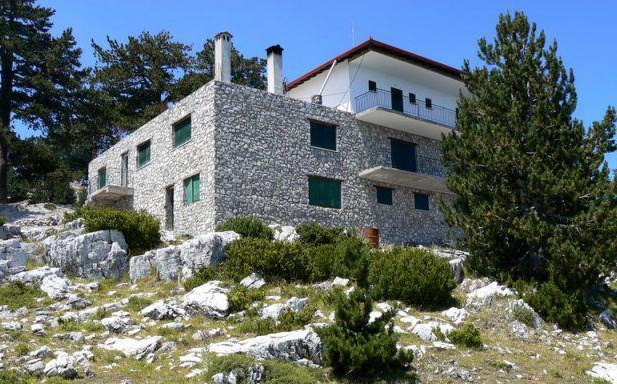 The visitor, having some basic equipment such as a pair of mountaineering boats, a good jacket and some warm clothes, can now live around every time of year, the secrets of Olympus. Starting from Litohoro by car, after about 13 km, it reaches Gorkias (junction), where it starts the mountaineering path that leads after about 2.5 hours of hiking in the Petrostrouga Refuge. The ascent is from a very well-known path and the route is relatively easy, even for those who do not have an uphill experience. The visitor follows the same path leading to the Olympus Muses Plateau and the Peaks (Mytikas and Stefani) while at the height of the aqueduct he chooses to move to the peaks through Petrostrouga. Most of the path (Δ10) is located in a dense beech forest, while from the aqueduct and afterwards the beech is replaced by a perennial robe.
Built in a beautiful forest at 1,940 meters altitude, the visitor can enjoy, in addition to the wonderful view, cooked food and beverages, the warmth of fireplaces and wood-stones throughout the shelter, as well as the hospitality of its managers. The shelter has the capacity to accommodate up to 72 people and has been renovated with voluntary work by the members of the Greek Rescue Team, making the space more functional and warm for the winter months. In addition, an emergency heliport for emergencies has been created and maintained in the surrounding area of ​​the shelter.
The surrounding area is ideal for small to large excursions. After, about 20 minutes of walking, the visitor can reach the cave of Ithakios, the great Greek painter, who has been living permanently for 10 years on a cliff of the rock and inspired by the Muses of Olympus. He has painted great paintings. He can also wander through the paths first set by Giosos Apostolidis, one of the most important climbers in our country, while the most daring can from the beginning of the shelter reach the Muses Plateau and Mytikas.
The shelter is a base for winter climbs, as it is open all year round, while for the summer months climbing routes have been opened to a nearby rock, allowing climbers to practice their favorite sport.
Contact Details and Map Directions
Source: http://www.hrt.org.gr